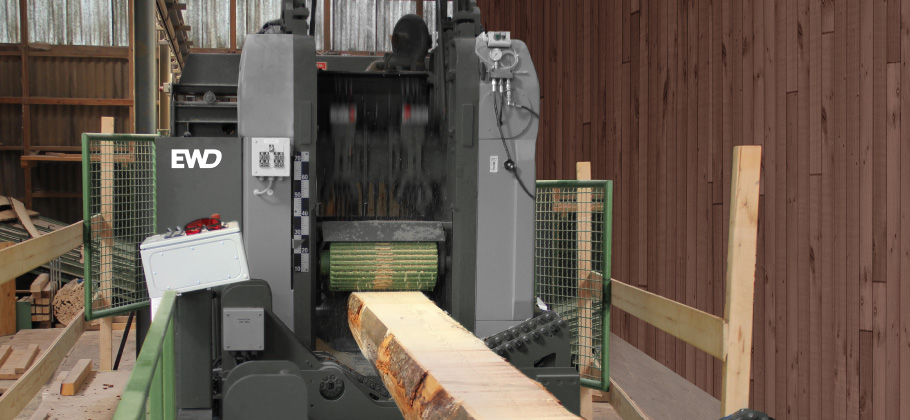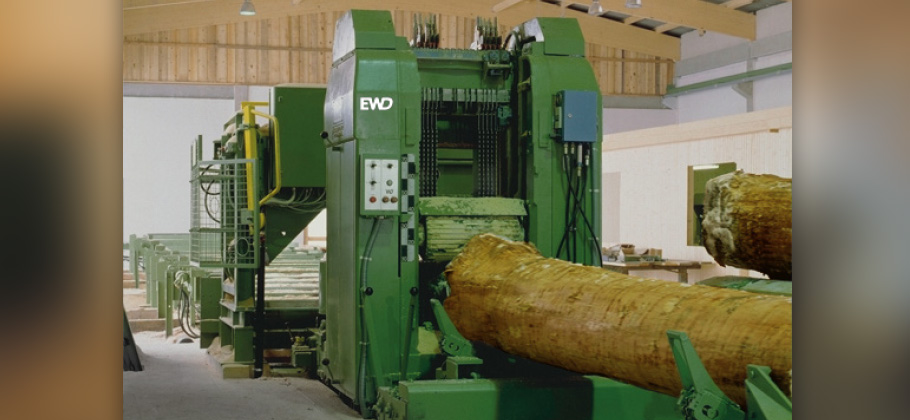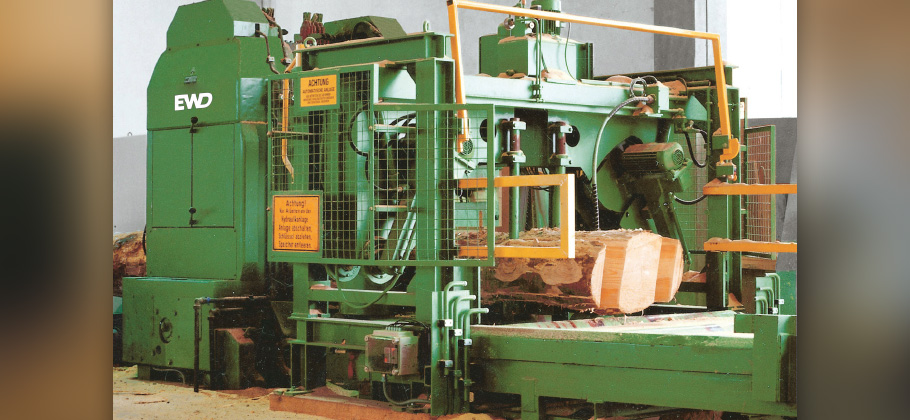 GDZGE
600 Stroke Oscillating Frame Sash Gang
For best surface qualities and high feed speed
Feed drive system
The sash gang saw is equipped with a hydraulic feed drive with variable speed control
over the full feed speed range.
Automatic overhang adjustment
The overhang of the sash frame is automatically adjusted according to the selected
feed speed.
Oscillating frame
The oscillating frame of the GDZGE is characterized by the oscillation of the bottom sash
guides. The oscillation move is automatically adjusted according to the selected feed speed.
Advantage of Oscillating Frame Sash Gang
total utilization of the sash stroke
without rubbing
better sawn lumber surface
extended operating time for the saw blades
superb smooth running
reduced power requirement

Rollers
The rollers are split and/or fitted with easily changeable inserts.
Upper sash guides
The upper sash guides are water-cooled by a cooling unit and a closed water circuit to
reduce wear and ensure a smooth running of the machine.
Hydraulic system
The lifting and lowering and the drive of the feed rollers uses hydraulic power.
The hydraulic system is composed of standard components, using a modular
principle. All parts such as electric motors, pumps and valves are grouped in a
central hydraulic system, separated from the sash gang saw and easily accessible.
The saw dust shaker and the central lubrication system have separate drives and
therefore can be used even when the machine is not running.
Additional equipment
USF Remote controlled log feed system
ZE-F Centering and infeed table
KSB Sideboard cross cut saw
AVER Outfeed and splitting device
MAS Balancing unit
Two individually shifting saw banks
Optionally the sash gang is available with shifting saw banks. Each of the two saw banks
is individually adjustable. With one or more center split saws mounted, the saw patterns
can be changed from single cant to double cants or multiples without stop and changing
of spacers, saws and re-adjustment of the outfeed splitter plates. During the setting of
the saw blades in a new position, the outfeed splitter plates open automatically to release
the previous sawn log. After that, the plates move automatically in the new set position.
Optionally also available with the Vario SV4 quad width adjustment. The adjustment of the
saw banks is possible from the operator control panel during normal operation.